Ah Australia, the land down under. Home to Paul Hogan, Greg Norman, kangaroos, Russell Crowe, Mel Gibson, the Mad Max franchise, Matt Mortensen (one of the two greatest hype men to ever live that you don't know about) and countless other people that I would have to go look up. Oh, and Yvonne Strahovski, who is the greatest thing Australia has ever produced. Yes, I said it. Have you seen this woman? Not only is she the most beautiful person not named Paige in the history of the western hemisphere, but she's super talented. Go watch Chuck if you don't believe me. Unless you're the lamest person ever or my buddy Pen (who eventually realized the error of his ways), you'll end up both loving this show and loving Yvonne by the time her first scene has occurred.
But enough about my love for amazing Australian blondes, time to write. Why did I bring up Australia? Well, for all the great things they've given us, one of the things Australia doesn't have a great abundance of is football stars. No, not the lameass, corrupt American game that Roger Goodell has brainwashed millions into loving, I'm talking about actual football (or, as the British would say, what we Yanks call soccer). For all of the Aussie's success in sports like golf and rugby, it's just never been the same with the football, especially the national club. There is however, one exception, and we're going to talk about him today. As an American, I unfortunately haven't had the privilege of seeing some of the great football players of years past. I have seen this one however, and I can honestly say he's one of my favorite players in any sport. And, in the best way to tie this whole thing back to the beginning, he is a born and bred Australian. So without further ado, let's begin another Cult Tribute, on the best player Australia has ever produced, the man, the myth, Tim Cahill.
Cult Tribute: Tim Cahill
What You Already Know
Depending on where you're from, this is either a little or a lot. The one thing everyone is going to know is this; Tim Cahill is a football player (an attacking midfielder by trade) from Australia, best known for his performances in the 2006 and 2014 World Cup. He is considered by many to be the best player ever to come from Australia, and has played in both England's biggest league (Barclay's Premier League) and America's (Major League Soccer).
Cahill in the 2015 Asian Cup against China
What You Don't Know
I think I may even impress my Australian friend with this fact; Tim Cahill did not, I repeat, did not start his international career playing for Australia. Instead, he began playing for Samoa in 1994 as a 14 year old, joining their under 20 squad. Cahill was allowed to do this due to having lived in Samoa for three years during his childhood, a less egregious factoid considering how many players play for nations they weren't born in these days (hello Diego Costa). It appears that Cahill didn't enjoy the experience; he played in only two games (both 3-0 defeats) and later acknowledged his main motivation for accepting Samoa's invitation was so he could be closer to his ill grandmother. He never played again for Samoa following the tournament, and Cahill would later switch allegiances back to Australia in 2004 after FIFA changed its eligibility rules.
To say Cahill's career with Australia has been extraordinary is like saying Blade Runner is the greatest science fiction film ever; it's common knowledge. Since joining the Socceroos in 2004, Cahill has been a machine for them. He's scored 39 goals in only 82 caps, his best performance being in his first year when he scored an astonishing 7 goals in only 5 caps! That run, which took place during the OFC Nations Cup, helped Australia get to a World Cup qualifying match, where they defeated Uruguay and punched their ticket to only their second World Cup ever. Cahill would play in that World Cup two years later), and scored the first ever Australian goal in World Cup history. Yes, the Socceroos apparently didn't put any points on the board during their only other World Cup appearance in 1974, making Cahill's goal in the 84th minute against Japan the most historic one in the 84 year history of Australian football. Insane stuff. Cahill would add another goal a few minutes later, and Australia would beat Japan 3-1 to win their first ever World Cup game. They would eventually make it to the Round of 16, losing to eventual champions Italy in a hotly contested, controversial game. Australia has qualified for the World Cup every year since, with Cahill appearing and scoring in each one (he is one of five players to score in three different World Cups). The Socceroos most recently won the 2015 Asian Cup (which Australia hosted), with Cahill leading the team once again.
Cahill and former Millwall teammate Neil Harris
As decorated as his international career has been, Cahill's club career has been impressive as well. He started out playing for Football League Second Division Team Millwall in 1997 and, in a theme that has to be recurring by now, instantly made them better. Only four years later, Millwall would go onto win the Second Division title with a record 93 total points, with Cahill as their best player. An even bigger accomplishment would come in 2004 (the Dark Side of the Moon of years for Cahill as it were), when he led Millwall all the way to the FA Cup Final against Manchester United. Though they lost, it's still considered a remarkable run due to Millwall's position in English football. It also turned out to be Cahill's last year with the team, as he was transferred to Everton during the offseason. In 249 appearances, Cahill would score 56 goals for the Lions, and remains one of their best players ever despite his lack of longevity.
Cahill celebrating a game winning goal against Sunderland
Cahill's Everton career was solid too. He totaled 68 goals in 278 appearances (leading Everton is scoring three times), with his best playing once again coming in 2004. Damn, did he win that year or what? Just like his national team and Millwall, Everton improved upon his arrival going from 17th to 4th in the Premier League and never falling lower than 11th during his eight year stay. He left Everton in 2012 and came over to the MLS, signing with the New York Red Bulls. His signing was noteworthy for being one of the few international stars to come over to America, but unfortunately he did not bring the same success to the Red Bulls he did to Millwall and Everton. With the exception of his second season, Cahill's tenure in New York was disappointing, tallying only 16 goals in 72 games, and parted ways with the team after only three years. He now plays for Shanghai Shenhua F.C. in the Chinese Super League, likely to be his last stop as far as club play goes. Is it too much to ask for a Premier League team to get him? Come on QPR, it's not like Cahill is any worse at this point than anyone not named Charlie Austin on the team.
Best Moment
For all of Cahill's triumphs, his masterpiece took place in what turned out to be the last World Cup game he ever played. In the second game of Group play in the 2014 World Cup, Australia squared off against the Netherlands as heavy underdogs. Having just conceded a goal to Dutch star/flopper Arjen Robben (sorry Robben, it's true) in the 20th minute, Australia quickly tried to counterpunch. Right back Ryan McGowan launched a cross close to the box, where Cahill was covered closely. Somehow, the ball landed right to Cahill, who proceeded to do this.
Ladies and gentleman, I have seen the David Tyree catch, I have watched the Red Sox come back from a 3-0 deficit against the Yankees, hell I've even seen a grown man satisfy a camel (okay, that last one is a line from
Dodgeball
). This is one of the best plays I've ever seen. Cahill not only manages to snag McGowan's excellent cross, but he hits it perfectly while it's still in air, sending it past the keeper and off the cross bar into the net. The only thing better than the goal was Cahill's boxing celebration afterwards, which was 100 times more impressive than anything Mayweather and Pacquiao did just a week ago. Australia would ultimately lose the game 3-2 (eliminating them from the World Cup), but their effort was lauded by their fans and football pundits, and Cahill's goal is now considered one of the best in World Cup history. Not a bad way for your final game in the world's greatest competition.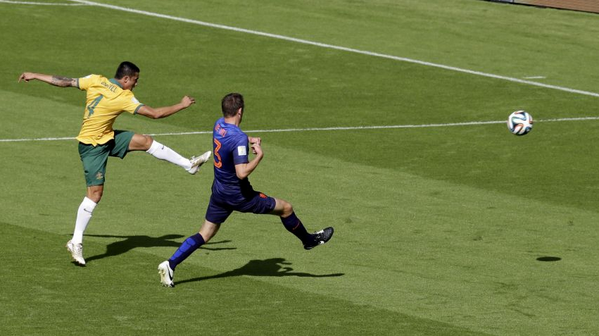 Spoiler alert; it goes in
Conclusion
There has never been a finer football player from down under than Tim Cahill. Granted, Australia's history at football has never been that strong, but even if it was, I find it difficult to believe there's anyone close to Cahill's skill. His ability in the air, his intelligence and craftiness allowed him to be one of the most underrated international stars of the past twenty years. Perhaps most importantly, every team he played for became better once he got there. I reckon if he had played for the U.S., England or Germany he would be a household name, although it would deprive Australia of one of their greatest citizens ever. Every place deserves to have a great sports hero. Tim Cahill is one of Australia's, and is, in this writer's opinion, the best footballer to ever lace them up for the Socceroos. I hope he reconsiders his decision to not play in the 2018 World Cup (even at 39, I reckon he could still play at a high level), and I hope he gets one last chance to play high level football. The best thing about Australia other than Yvonne Strahovski deserves as much.
That's it guys. Hope you liked this; I did what I could. I'll be back tomorrow answering your questions in the first ever PCDTC Failbag! Till then, watch Tim Cahill highlights, watch
Chuck
, watch
Dexter
(but not the end of Dexter), play some FIFA and put Tim Cahill on QPR, never beat LOP columnist 'Plan for he will hunt you down for revenge, always remember that nice guys finish last, and be thankful DUCHOVNY took the night off so Yvonne could get some shine.
Please change disks to continue...